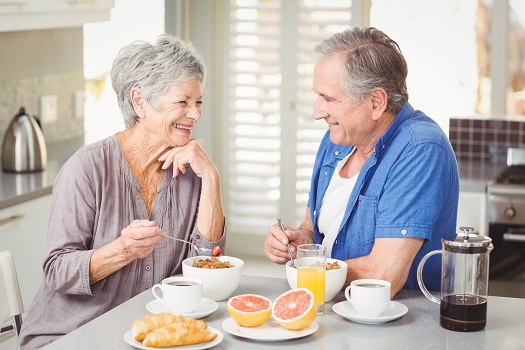 As people age, they tend to live more sedentary lives. Changes in physical abilities often make it difficult to enjoy an active lifestyle and visit with friends and family. What can be done to restore your senior loved one's sense of purpose and help him or her become more active? Here are five habits you can encourage your loved one to practice each morning to promote the mind, body, and spirit. 
1. Think of the Positive
Recalling something good or beautiful that was seen, heard, or felt on the previous day can set the stage for a great day. This could be something as simple as a kind word, a beautiful bird or butterfly, or a picture-perfect outdoor scene.
2. Set a Goal for the Day
Studies show that older adults who set goals enjoy deeper feelings of satisfaction and increased levels of self-confidence. No matter how small, setting a goal in the morning and striving to achieve that goal can provide your loved one with a sense of purpose and more motivation to maintain his or her regular routine.
3. Lightly Stretch
Moderate exercise, specifically stretching, is especially important for aging muscles. Slowly stretching the arms and legs before getting out of bed can loosen stiff muscles, relieve aches, and promote overall mobility. Stretches should be done slowly at first to reduce the risk of injury.
A home caregiver can help your loved one exercise in safety and comfort. Home care experts are available to provide high-quality care to seniors on an as-needed basis. From assistance with mobility and exercise to providing transportation to the doctor's office and social events, there are a variety of ways professional caregivers can help your aging loved one continue to live independently.
4. Eat a Hearty Breakfast
Breakfast provides the body with fuel for the day, so seniors should get in the habit of eating something upon waking up. If your loved one doesn't have a large appetite in the morning, make his or her calories count by opting for whole wheat breads and English muffins or smoothies packed with vegetables and fruits.
Not every senior has the same care needs, which means they don't all need the same type of at-home care. Barrie families can rely on Home Care Assistance to provide individualized care plans to meet their elderly loved ones' unique care needs. Our holistic Balanced Care Method was designed to help seniors focus on healthy lifestyle habits such as eating nutritious foods, exercising regularly, and maintaining strong social ties, and our Cognitive Therapeutics Method offers mentally stimulating activities that can stave off cognitive decline and delay the onset of dementia.
5. Reach Out to a Friend
Socializing is an important part of staying both mentally and physically healthy with age. Whether your loved one picks up the phone, uses social media, or visits with a neighbor, reaching out to friends and continuing to build relationships in the golden years will have long-lasting positive effects.
For families living in Barrie, respite care can be a wonderful solution when their aging loved ones need companionship and socialization a few hours a week or just need minor assistance with daily household tasks. At Home Care Assistance, we thrive on helping seniors maintain their independence while living in the comfort of home. To hire a dedicated caregiver, call Home Care Assistance at 647-970-3803 today.