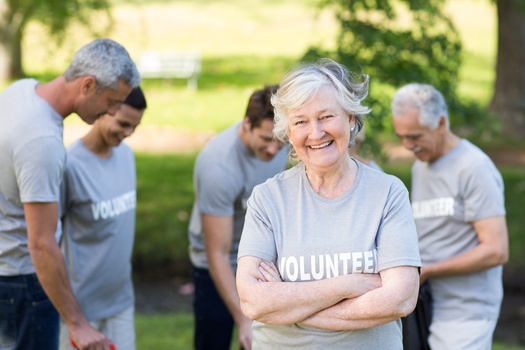 Many organizations seek out senior volunteers to provide essential services to the community. Seniors make excellent volunteers, since they have more time to spend helping out after retirement. They've also gained valuable skills that can transfer to their volunteer positions, and they're known for being responsible enough to show up on time and ready to get to work. Here are some of the top benefits seniors receive when they choose to become volunteers. 
Be a Contributing Member of Society
Your senior loved one likely retired at the height of his or her career. Now your loved one may not know what to do next. Seniors who flounder after retirement often end up with low self-esteem and feel as though they're obsolete. Volunteering brings back that wonderful feeling of knowing they're needed in the community. If your loved one seems to be lost after leaving his or her primary career, find volunteer opportunities that utilize his or her skills. 
If your loved one no longer drives, he or she may find it challenging to participate in volunteer activities in the community without transportation. Home care experts are available to provide high-quality care to seniors on an as-needed basis. From assistance with mobility and exercise to providing transportation to the doctor's office and social events, there are a variety of ways professional caregivers can help your aging loved one continue to live independently.
Have Something to Talk About
Seniors who sit at home all day have very little to talk about other than the latest shows they watched on television, which makes it difficult to connect with family members and friends. However, volunteering can fill your loved one's days with exciting new events. Whether he or she raves about the latest puppy to show up at the shelter or shows off pictures of a neighbourhood park cleanup, your loved one will feel like an interesting person with something to share in social situations. 
Find New Friends with Similar Interests
Friendships become more valuable in the senior years, when there's more time to socialize. However, it may be difficult to make new friends if your loved one never leaves the house. At a volunteer job, your loved one will meet people who care about the same types of causes, which could lead to instant friendships that include opportunities to socialize outside of work. 
For families living in Barrie, respite care can be a wonderful solution when their aging loved ones need companionship and socialization a few hours a week or just need minor assistance with daily household tasks. At Home Care Assistance, we thrive on helping seniors maintain their independence while living in the comfort of home.
Make It Easier to Stay Healthy
Volunteering goes perfectly with an active lifestyle. When your loved one volunteers, he or she will have a reason to get up and move around for the majority of the day. Your loved one will also want to stay healthy when other people depend on him or her. While volunteering may not cure ailments, it can help your loved one feel better. For instance, walking around as a school crossing guard eases stiffness from arthritis, and grooming animals at a shelter lowers blood pressure. 
Add Structure to the Week
Seniors who no longer work often claim their days blend together. Volunteering gives your loved one a set schedule that provides a sense of structure. Having a place to be on certain days offers a sense of reassurance, and your loved one may find helping others provides a mental boost and makes him or her look forward to each new day. 
Volunteering is just one of the many ways to boost quality of life in the golden years. Maintaining a high quality of life can be challenging for some seniors, but professional caregivers can help them attain this goal. Families can trust Barrie home care service experts to help their elderly loved ones focus on lifestyle choices that increase the chances of living longer and healthier lives. Home Care Assistance can be your trusted partner when your loved one needs help with the challenges of aging. Call us today at 647-970-3803 to learn about our high-quality in-home care services.