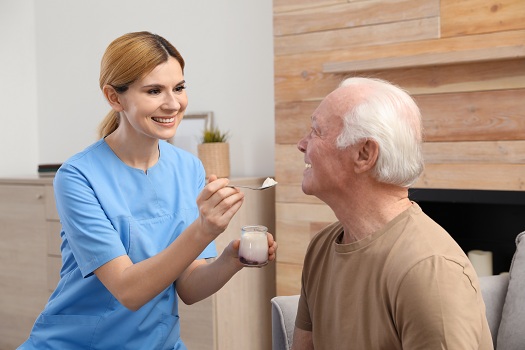 People caring for senior loved ones with Parkinson's face many challenges. One such challenge is learning how to properly feed a person affected by this disease. Parkinson's can cause constant tremors, which pose a choking risk when eating. Fortunately, there are things you can do to minimize this risk. Here are five tips for feeding a loved one with Parkinson's so the dining experience is a pleasant one. 
1. Assess Your Loved One's Swallowing Ability
People with Parkinson's have different levels of swallowing abilities. While difficulty swallowing often appears in the later stages of Parkinson's, it may be one of the first symptoms your loved one experiences. Some people swallow better when their food is mixed with thin liquids. However, others do better when a commercially prepared thickener is added to their food.
Many seniors in the early stages of Parkinson's are able to live on their own, but grocery shopping and preparing nutritious meals can be challenging. Aging adults who require assistance with the tasks of daily living can benefit from reliable senior care. Families trust Home Care Assistance to provide the high-quality care their elderly loved ones need and deserve. Our caregivers are trained to help seniors prevent serious illnesses and encourage them to make healthier decisions as they age.
2. Puree Food if Necessary
Swallowing may become so problematic for your loved one that only foods that have been pureed or otherwise mechanically altered will be tolerated. Always start slowly when feeding so you can evaluate your loved one's swallowing function. If your loved one doesn't enjoy foods that have been pureed, cautiously feed soft foods that are easy to swallow, such as mashed potatoes, cooked vegetables, soups, and rice. 
Difficulty swallowing and other eating issues in the advanced stages of Parkinson's disease can make caring for aging adults increasingly challenging. Seniors living with serious health conditions often need extensive assistance in and outside the home. Home Care Assistance is a trusted provider of Barrie live-in care. Our caregivers are expertly trained to assist seniors with bathing, grooming, light housekeeping, and various other daily tasks, and we also offer specialized Alzheimer's, dementia, stroke, and Parkinson's care.
3. Maintain Proper Posture
When feeding your loved one, make sure he or she isn't slouching. Good posture makes chewing and swallowing easier and may prevent a choking episode. If good posture fails to make a difference in the way your loved one swallows food, suggest different positions, such as tucking the chin, which may facilitate the swallowing mechanism so food doesn't get caught in the throat.
4. Be Patient
Allowing your loved one enough time to effectively chew and swallow food reduces the risk of a negative dining experience. If your loved one senses he or she is being rushed while eating, large pieces of food may be swallowed or inhaled into the lungs, which can be especially dangerous because it could lead to aspiration pneumonia. 
5. Encourage Independence
People with Parkinson's can become frustrated because this neurological disease often causes a loss of independence. To enhance the dining experience, encourage your loved one to actively participate in mealtimes. Allow your loved one to feed him or herself, even if his or her hands shake when holding utensils. Being able to participate in mealtimes provides a sense of confidence and accomplishment. While it may be faster and easier if you feed your loved one, doing so at every meal may cause him or her to lose manual dexterity and diminish his or her ability to maintain proper hand-eye coordination. To further your loved one's independence, talk to his or her physician about a referral to an occupational therapist, who can work with your loved one on his or her eating skills. 
Caring for a loved one with advanced Parkinson's can be extremely challenging, and a compassionate professional caregiver can be a wonderful source of support. If your elderly loved one is living with a serious medical condition and needs help managing the tasks of daily living, reach out to Home Care Assistance, a Barrie elder care agency you can trust. Our caregivers are available 24/7, there are no hidden fees in our contracts, and we offer a 100% satisfaction guarantee on all of our in-home care services. If your loved one needs professional care, Home Care Assistance is here to help. To hire a compassionate, dedicated caregiver, call us at 647-970-3803 today.