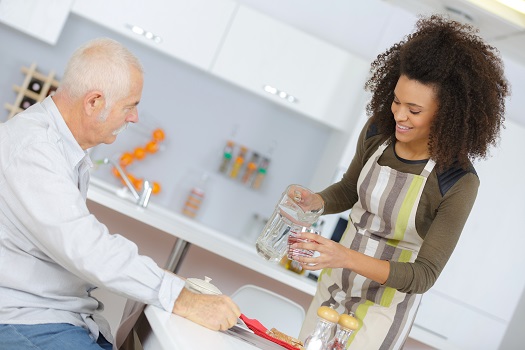 Parkinson's disease is a type of neurodegenerative disorder that gradually results in difficulties with movement. As the condition progresses, seniors often find themselves facing involuntary stiffness, weakened muscles, tremors, and changes to the way they walk and talk. Here are a few ways you can care for a senior loved one with Parkinson's disease and make his or her life a little easier.
1. Serve Healthy Meals
You cannot alleviate Parkinson's symptoms with food alone, but providing healthy meals with the right blend of calories, macronutrients, and vitamins can keep your loved one healthy and prevent stress and illness from triggering severe symptoms. Due to involuntary muscle contractions, many seniors with Parkinson's experience constipation. Providing high-fiber foods that are rich in fluids can ease this problem.
2. Keep a Regular Medicine Schedule
Medical treatment for Parkinson's disease typically involves medications meant to increase levels of dopamine in the brain. However, these aren't effective unless taken regularly, and some seniors may need a huge variety of medications to get the right effects. Get an easy-to-operate pill organizer and set up alarms to ensure your loved one takes the right medications at the right time. If other family members or caregivers are helping out, make sure to write down a schedule and mark when medications are taken to prevent confusion. 
As your loved one's disease progresses, a professional caregiver can be a wonderful addition to your family's caregiving team. Whether you need respite from your caregiving duties or your aging loved one needs live-in care, Barrie, ON, Home Care Assistance can meet your family's care needs. Our dedicated caregivers are available around the clock to provide transportation to doctor's appointments, ensure seniors take their prescribed medications, and help with a variety of tasks in and outside the home.
3. Be Positive and Caring
Caregivers can do more than just provide physical assistance. Living with the limitations of Parkinson's disease is understandably frustrating, and many seniors who have Parkinson's end up with depression. As a caregiver, your support can be invaluable to a loved one who is going through a difficult time. Make it clear you're always there to talk, and remind your loved one how much you love him or her. Try to spend time together and participate in fun social activities that take your loved one's mind off the health issues.
Experienced and empathetic professional caregivers can offer assistance with all your loved one's needs—physical, mental, and emotional. When researching agencies that provide in-home care, Barrie, ON, families are usually looking for flexible care plans, compassionate and highly trained caregivers, and 24/7 availability. Whether you need respite care to take a break from your caregiving duties or your senior loved one needs around-the-clock assistance at home, you can rely on Home Care Assistance.
4. Get Assistive Devices
Parkinson's often makes it difficult for seniors to do basic things such as feed themselves or write notes. You can step in and help, but many seniors prefer to do things independently. Help your loved one retain a sense of independence with things such as utensils with sensors to reduce tremors, weighted pens to ease writing, tools to manage buttons, bars to prevent bathroom falls, and other similar items.
5. Remove Tripping Hazards Around the House
Parkinson's can impair the sense of balance so much that even minor changes in floor elevation can lead to a fall. To prevent your loved one from getting into dangerous accidents, take the time to remove electrical cords, low footstools, mats, and raised thresholds from around the home. Make sure pathways between commonly used areas such as bedrooms and bathrooms remain clear.
Many families readily take on the caregiving responsibilities for a loved one with Parkinson's, but some aren't prepared for the specialized care that's required as the disease progresses. Caring for a senior loved one can be challenging for families who don't have expertise or professional training in home care, but this challenge doesn't have to be faced alone. Family caregivers can turn to Barrie Home Care Assistance for the help they need. We provide high-quality live-in and respite care as well as comprehensive Alzheimer's, dementia, stroke, and Parkinson's care. To create a customized home care plan for your loved one, call 647-970-3803 today.