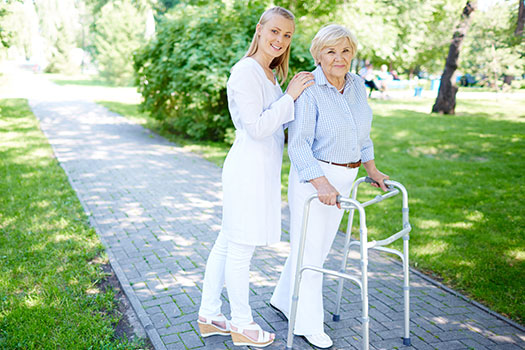 Caring for an aging loved one may be one of the most rewarding experiences you encounter in your lifetime, but ensuring it stays that way involves finding a good balance. Many family caregivers opt for professional respite care to maintain a balance between their caregiving duties and personal lives. Initially, you may feel guilty about using respite care, but it's important to remember it's beneficial to both you and your loved one. Here are a few of the top benefits you stand to gain if you utilize respite care.

1. Maintain a Positive Relationship
Spending every minute of the day with your loved one may cause both of you to become agitated, which could lead to arguments, stress, and negativity. You may find that both you and your loved one are saying things you don't mean, which could have damaging effects on your relationship. Taking the occasional break from each other can help you maintain a healthy relationship. 
Hiring a professional caregiver is one way to take a break from your caregiving duties to stave off negative emotions. Families looking to hire a caregiver can reach out to Home Care Assistance Barrie. All of our hourly and live-in caregivers receive extensive ongoing training to ensure they provide the high-quality in-home care seniors need and deserve.

2. Focus on Self-Care
It's easy for caregivers to get so caught up in caring for their loved ones that they neglect their own needs. Maybe you've stopped exercising or you've resorted to eating fast food every night to save time. Respite care allows you to take some time to address your own health needs, whether it gives you a chance to hit the gym, cook a meal, or just relax for a few hours. 

3. Spend Time with Family and Friends
Your children, significant other, and friends may not see you often because you're spending so much time taking care of your loved one. Respite care provides the opportunity to tend to other important relationships, which benefits you and your family members and friends. 

4. Tend to Other Important Matters
Getting your loved one out of the house frequently may be difficult, but eventually you'll have errands to run. Hiring respite care gives you the opportunity to run errands without having to worry about leaving your loved one alone. Having a chance to get out and take care of necessary business without worrying about your loved one may reduce your stress levels. 

5. Prevent Burnout
Caregivers who care for their elderly loved ones 24 hours day, 7 days a week often find themselves burning out, and this phenomenon can spark all sorts of negative feelings, ranging from anger to depression. Using respite care is one of the best ways to prevent burnout. 
Caring for a senior loved one can be challenging for families who don't have expertise or professional training in home care, but this challenge doesn't have to be faced alone. Family caregivers can turn to Barrie Home Care Assistance for the help they need. We provide high-quality live-in and respite care as well as comprehensive Alzheimer's, dementia, stroke, and Parkinson's care.
6. Reduce Stress

Managing someone else's life while simultaneously managing personal responsibilities can be quite stressful. If your loved one needs regular visits to the doctor, help with mobility or personal hygiene, or other types of assistance, caregiving could turn into a challenging job. Hiring respite care takes some of the load off of you so you aren't always stressed out. 

7. Obtain Better Long-Term Results

If you want to take care of your loved one for the long haul, you need to develop strategies to help you avoid stress, burnout, and other issues that may arise from caregiving. Family caregivers who take advantage of respite care tend to have a better chance at sticking it out. Hiring respite care also makes the situation more pleasant for both you and your loved one because if you aren't taking care of yourself, you can't properly take care of someone else.
For some families, caring for a senior loved one can be overwhelming at times. Luckily, they can rely on professional respite care. Barrie, ON, Home Care Assistance is a trusted name in respite and hourly care. Our caregivers are available around the clock to assist seniors with bathing, transportation, medication reminders, exercise, and much more, allowing families the time they need to focus on other important responsibilities or just take a break. To create a comprehensive in-home care plan for your elderly loved one, give us a call at 647-970-3803 today.