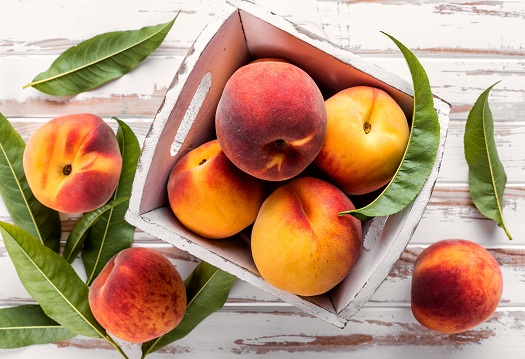 As seniors age, their nutritional needs often change. Peaches are a healthy, nutrient-rich, convenient, and versatile snack for seniors. Here are a few reasons to include more peaches in your aging loved one's diet. 
Boost Eye Health
Peaches are high in beta-carotene. This antioxidant increases blood circulation and protects the eyes from cataracts and other age-related eye diseases. Regular consumption of peaches may slightly enhance your loved one's vision. 
Reduce Inflammation
Like many other fruits, peaches have a slightly diuretic and light laxative effect. By aiding in digestion, peaches reduce inflammation in the body, which can be especially beneficial if your loved one has arthritis, gout, or rheumatism. 
Eating peaches and other fruits is one of the many ways seniors can maintain their health and wellbeing. Seniors who want to remain healthy as they age can benefit in a variety of ways when they receive professional home care service. Home Care Assistance is here to help your loved one accomplish daily tasks, prevent illness, and focus on living a healthier and more fulfilling life.
Decrease the Risk of Cancer
The antioxidants and vitamins found in peaches can prevent cancer. These fruits also contain phenolic acids, which encourage normal cell growth and can slow (or even stop) the growth of abnormal cancer cells. 
Promote Healthy Skin
Eating one peach a day delivers a high dose of vitamins A and C. Both of these nutrients can keep your loved one's skin soft, glowing, and elastic. Some seniors have found rubbing peaches directly on the skin can erase wrinkles and dark circles. 
Control Blood Pressure
For a high-potassium and low-sodium snack, offer your loved one a peach. This combination makes peaches the perfect food for promoting optimum blood pressure, and dried peaches serve this purpose even better than fresh peaches. 
Some seniors need assistance with grocery shopping, meal preparation, and other daily tasks. If your aging loved one needs occasional help with bathing, grooming, cooking, or other basic household tasks, or if you need time to attend to important personal matters, reach out to Home Care Assistance, a leading provider of live-in and respite care. Barrie seniors can maintain their independence while living at home with the help of our reliable respite caregivers.
Prevent Anemia
Seniors who need more iron and vitamin C will be happy to learn peaches are loaded with these nutrients. Vitamin C aids in the absorption of iron, preventing deficiencies that can cause anemia. 
Enhance Digestive Health
Because peaches are high in fibre, eating them cleanses toxins from the body, which can prevent discomfort and a variety of diseases. Peaches are also generally easy to eat and digest for most seniors. 
If your aging loved one needs help managing everyday tasks or encouragement to adopt healthier lifestyle choices, turn to Home Care Assistance, a leading provider of senior home care. Barrie Home Care Assistance provides professional in-home caregivers around the clock to help seniors live longer, happier, and healthier lives. To create a customized care plan for your loved one, call us at 647-970-3803 today.