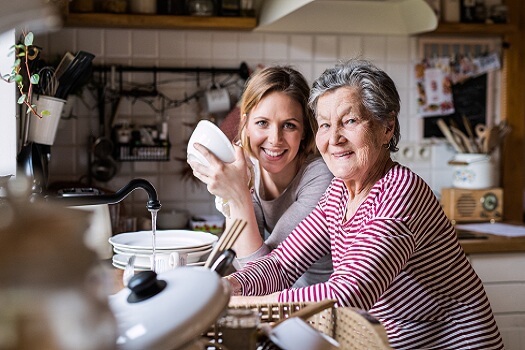 Dementia is a progressive disorder with many symptoms, including behavioral issues. Therefore, it's common for older adults to become confused, angry, agitated, and even violent. Family caregivers need to develop distraction techniques like those mentioned below, which can calm situations and divert their elderly loved one's attention.
1. Play Music
Music memory is one of the functions that usually remain in older adults living with dementia. Even if your loved one forgets people's names or faces, he or she may remember the words and sounds of his or her favorite songs. Playing these tunes could provide an instant distraction that boosts your loved one's mood and allows him or her to focus on positive things. Music can be a distraction technique in all stages of dementia, which makes it even more beneficial.
Symptoms such as agitation, confusion, anger, and frustration are common in elderly people with dementia. Dementia can be challenging for seniors to manage, but they can maintain a higher quality of life with the help of professional dementia care. Barrie seniors can benefit greatly from the Cognitive Therapeutics Method (CTM), an activities-based program designed to promote cognitive health and delay the onset of dementia. CTM is included at no additional charge with any of the in-home care plans provided by Home Care Assistance.
2. Try Aromatherapy
Lighting candles or using aroma sprays can stimulate receptors in the brain responsible for the regulation of emotions. The scents can relieve symptoms of anxiety and lower the risk of depression. When you notice your loved one becoming upset and irritated, light a candle, use a scented spray, or put a few drops of essential oil in a diffuser to distract him or her and ease tension in the room.
3. Start a New Activity
Boredom and the inability to keep up with a conversation or a specific task could cause combative behavior in older adults with dementia. You can immediately divert your loved one's attention by starting a new, less challenging activity. For example, if your parent is playing cards and becomes bored and upset, stop the game and try something fun and more manageable, such as coloring or dancing. Your loved one can focus on the new task instead of thinking about the challenges associated with the card game.
The cognitive challenges that accompany dementia often leave aging adults unable to manage everyday tasks, which puts their safety and health at risk. If your senior loved one has been diagnosed with a serious condition and needs help with tasks like meal prep, transportation, bathing, and grooming, reach out to Home Care Assistance, a leading provider of in-home care families can trust. We also offer comprehensive care for seniors with dementia, Alzheimer's, and Parkinson's.
4. Use Reassurance
Wandering and pacing are common symptoms seniors with dementia experience at some point, but a gentle touch, words of encouragement, or a humorous joke can often distract seniors long enough to stop the restlessness, especially during the evening hours. Determine what's causing your loved one to feel uneasy and validate those feelings while providing reassurance. You can ease fear, doubt, and other negative emotions by saying things like "I know you're upset, but I'm here for you" or "I love you, and together we can do anything."
5. Encourage Doing Household Chores
Aging puts seniors at a higher risk of developing hearing and vision impairment in addition to dementia. When they have difficulty seeing, understanding, and hearing, they may become confused and feel isolated. As a result, they may turn to self-soothing methods such as screaming. To distract your loved one in these instances, have him or her help out with manageable household tasks, such as sweeping the floor, folding clothes, or wiping down the table. Your loved one may feel a sense of control despite the cognitive issues encountered each day.
Caring for a loved one with dementia is a challenging task for anyone. The responsibilities can sometimes feel overwhelming, but help is available. Seniors can face a variety of age-related challenges. Though some families choose to take on the caregiving duties, there may come a time when they need a trusted Barrie homecare provider. Families sometimes need respite from their duties so they can focus on their other responsibilities, and some seniors need around-the-clock assistance that their families are not able to provide. Trust your loved one's care to the professionals at Home Care Assistance. Call one of our dedicated Care Managers today at 647-970-3803 to learn about the high quality of our in-home dementia care services.