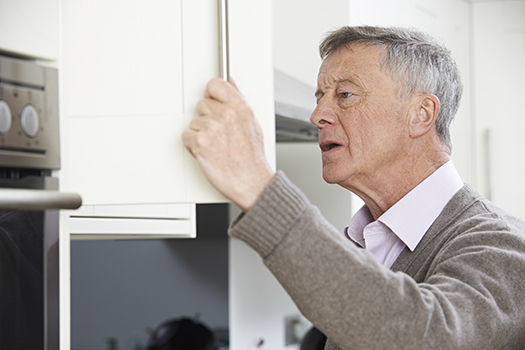 Many seniors worry when they're diagnosed with dementia because they don't want to lose their independence. However, having dementia doesn't automatically mean a senior should be treated like a child. Seniors can still live independently during the early stages of dementia, and even as the condition progresses, there are many things aging adults can still do themselves. Here are a few ways you can help your senior loved one with dementia retain independence.

Find a Better Way to Manage Medications
Most seniors with dementia take at least a few medications, and mix-ups can have serious health consequences. Fortunately, there are simple ways to manage medications. Consider getting a pill manager that dispenses the right amount of medications at specific times and reminds your loved one to take them.
Aging in place can present a few challenges for seniors living with dementia. However, they can still live independently at home with the help of professional dementia care. Barrie families can rely on Home Care Assistance to provide their elderly loved ones with mental and social stimulation, timely medication reminders, assistance with meal prep, and much more. Our caregivers are available around the clock to help your loved one live a happier and healthier life.
Label Everything Clearly
Seniors with dementia often have difficulty with tasks because they cannot remember things such as how to turn on a television or where to find a spoon in the kitchen. A good solution for these types of problems can be taking the time to write out labels for everything. Use a clear, large font to list each item in your parent's cabinets, drawers, and closets, and consider writing simple instructions for using appliances. This easy, affordable solution can increase functionality for many seniors.
Caring for a loved one with dementia can be challenging, but compassionate help is available. If your senior loved one has been diagnosed with a serious condition and needs help with tasks like meal prep, transportation, bathing, and grooming, reach out to Home Care Assistance, a leading provider of home care services families can trust. We also offer comprehensive care for seniors with dementia, Alzheimer's, and Parkinson's.
Encourage Your Loved One to Help You
In their desire to make life easier for their loved ones, many caregivers make the mistake of trying to do everything for their aging parents. However, it's important to involve your loved one in his or her own care. Try asking your loved one to wash vegetables, dust furniture, or water plants. Even if it takes your loved one longer to do something, encouraging him or her to take part in chores can promote a valuable sense of accomplishment and confidence.
Automate Items with Timers
Many seniors with dementia stop doing daily activities because they worry about forgetting to turn something on or off on time. Adding timers can be a great way to address this concern. You can find a timer that switches the stove off after it's been on for a set amount of time and one that turns on the heater at a certain time of day. This option gives seniors fewer things they need to focus on, so it can enable them to feel more confident.
Promote Physical Activity
Seniors with dementia are more prone to balance and coordination issues that can cause dangerous falls and accidents. Mobility is often an essential part of retaining independence, so you should take steps to help your parent stay as fit as possible. Encourage your loved one to try gentle bodyweight exercises, light cardio, stretching, and balance exercises to retain the ability to move around with ease each day.
A trained caregiver with knowledge about caring for seniors with dementia can be a fantastic resource for family members. Families looking for top-rated Barrie senior home care providers can reach out to Home Care Assistance. From respite care to specialized Alzheimer's, dementia, stroke, and Parkinson's care, there are many ways we can make life easier for seniors and their loved ones. If your loved one needs assistance with the challenges of aging, reach out to one of our knowledgeable, compassionate Care Managers today at 647-970-3803.