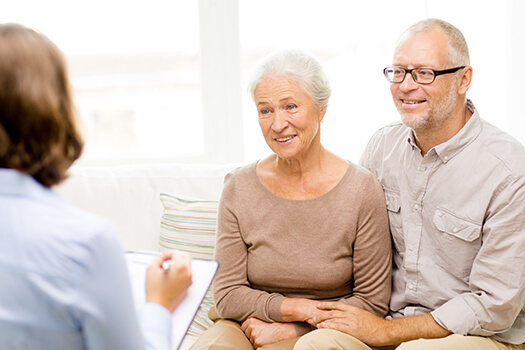 Families may be faced with many challenges regarding their senior loved ones, including choosing the right care. Ultimately, you should choose a living arrangement that keeps your loved one safe and comfortable. Hiring an in-home caregiver can make living at home possible. Here are six of the top benefits of hiring an in-home caregiver for your senior loved one.

1. Reduces the Risk of Falls
One of the top causes of infections, traumas, and fractures is falling. Due to poor vision and muscle strength, seniors are more prone to falls. Having a caregiver inside of the home while you are away can prevent your loved one from falling and becoming injured. The caregiver can also make sure rooms and walkways are clutter-free. The bathroom is another area of the home where accidents happen, but an in-home caregiver can assist with bathing and grooming to make the area safer for your loved one. 
Many older adults are choosing to age in place, and some need a helping hand to continue living at home safely and comfortably. Luckily, there is professional home care Barrie seniors can trust and rely on.

2. Promotes Better Nutrition

In-home caregivers can help seniors with meal prep, which includes choosing healthy recipes to cook for the week and going to the grocery store to make sure there are healthy foods in the home. Good nutrition is necessary for seniors because it lowers the risk of high blood pressure, diabetes, obesity, and cardiovascular disease. Eating healthy can also help seniors increase their muscle strength and sleep better at night. 

3. Provides Companionship

Many seniors experience isolation as they grow older. They may withdraw from social activities for a variety of reasons, such as mobility issues, incontinence, or being overweight. In-home caregivers can help seniors get the social interaction they need and crave and help them work on the issues and insecurities that are causing them to withdraw from social activities.

4. Helps with Medication Management
It is common for seniors to take multiple prescriptions as they grow older, due to the health changes they experience. Managing multiple medications can be difficult, but if it isn't done properly, your loved one might overmedicate and end up in the hospital. However, an in-home caregiver can remind your loved one to take the right prescriptions and dosages at the correct time and teach him or her how to use apps to manage medications. 
If your elderly loved one is living with a serious medical condition and needs help managing the tasks of daily living, reach out to Home Care Assistance, a Barrie home care agency you can trust. Our caregivers are available 24/7, there are no hidden fees in our contracts, and we offer a 100% satisfaction guarantee on all of our in-home care services.

5. Allows the Senior to Remain in the Comfort of Home
Instead of moving to an assisted living facility or recovering at the hospital or a rehabilitation center, your loved one can stay in the comfort of his or her home. Being in a familiar setting may enhance your loved one's mental, physical, and emotional health. 

6. Provides One-on-One Care
Home care is an option that prevents your loved one from having to share a caregiver with other seniors. Instead, your loved one can receive the one-on-one care he or she needs to live a better quality of life. The in-home caregiver will make sure your loved one's needs are taken care of. Since the caregiver doesn't have to help other aging adults, he or she can be more attentive to your loved one's needs.
Get in touch with Home Care Assistance to find out how a Barrie, ON, caregiver can help your aging loved one live a longer, healthier, and happier life. Our caregivers are available 24/7, all of our senior care services come with a 100% satisfaction guarantee, and we never ask our clients to sign long-term contracts. To learn more about our premier in-home care, call 647-970-3803 today to speak with a friendly Care Manager.