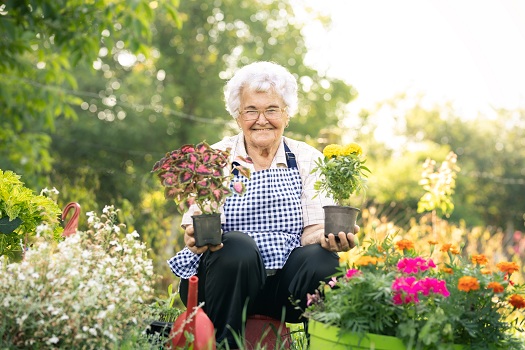 Gardening offers both physical and cognitive benefits for seniors living with dementia. They can participate in a variety of gardening activities that increase their communication skills, lower their stress levels, and slow the progression of the condition. Here are some gardening activities seniors with dementia should try. 
Planting a Family Tree
Activities like planting trees are productive and give seniors with dementia a sense of purpose. Your aging parent can plant a tree in the backyard with you and the grandchildren. While helping with planting the tree, your loved one can feel more involved, strengthen bonds with the rest of the family, and build memories to cherish forever. When planting the tree, make sure your loved one wears protective gloves and other accessories that increase safety.
Seniors with dementia can live at home safely and optimize their quality of life with the help of highly trained, experienced professional caregivers. If your senior loved one needs professional dementia care, Barrie caregivers are available around the clock to provide the high-quality care he or she needs. Using the revolutionary Cognitive Therapeutics Method, dementia caregivers can help your loved one stay mentally engaged and delay the progression of the disease.
Growing Fruits & Vegetables
Even if your loved one has limited mobility, you can still find fun and purposeful activities for him or her to do, such as watering the plants while you're planting fruits and vegetables in the garden. The foods and spices grown in the garden (especially superfoods) may have a positive impact on cognitive health. Leafy green vegetables and berries are packed with antioxidants that can boost cognitive function and quality of life. 
Seniors with dementia often need assistance with everyday activities so they can age in place in safety and comfort. If your senior loved one has been diagnosed with a serious condition and needs help with tasks like meal prep, transportation, bathing, and grooming, reach out to Home Care Assistance, a leading provider of home care service families can trust. We also offer comprehensive care for seniors with dementia, Alzheimer's, and Parkinson's.
Arranging Flowers
Merely sitting in the garden or arranging flowers can have a positive effect on older adults with dementia, providing healing benefits, stimulating the mind, and reducing stress. After your loved one has helped you pick flowers from the garden, find pretty vases to set them in to display on the kitchen table and counter. Arranging flowers can provide a sense of closeness with family and friends, even if your loved one has difficulty remembering the activity. The objective is to provide an experience your loved one can enjoy in the moment.
Bird-Watching
While sitting in the garden, your loved one can watch for birds that flock to the garden and surrounding areas. Bird-watching can be a valuable gardening activity because it allows seniors with dementia to reminisce and relax. The sounds of the birds chirping can stir memories and lower anxiety levels. The distinctive sounds birds make can also provide sensory stimulation, which is essential for enhancing quality of life for adults with dementia. 
Making Picture Art
Encourage your loved one to paint the figures in the garden or create collages with leaves from the plants. The variety of plants can inspire many creative art activities that boost thinking skills and provide a sense of accomplishment. Creating picture art offers your loved one the power of choice, benefiting his or her emotional and mental health. Using creative skills can also lower the risk of depression and isolation, which are common in seniors with dementia.
If your loved one is living with dementia, having a trained professional caregiver close by can provide you and your family with much-needed peace of mind. Not every senior has the same care needs, which means they don't all need the same type of home care. Barrie families can rely on Home Care Assistance to provide individualized care plans to meet their elderly loved ones' unique care needs. Our holistic Balanced Care Method was designed to help seniors focus on healthy lifestyle habits such as eating nutritious foods, exercising regularly, and maintaining strong social ties, and our Cognitive Therapeutics Method offers mentally stimulating activities that can stave off cognitive decline and delay the onset of dementia. To create a customized home care plan for your loved one, call Home Care Assistance at 647-970-3803 today.